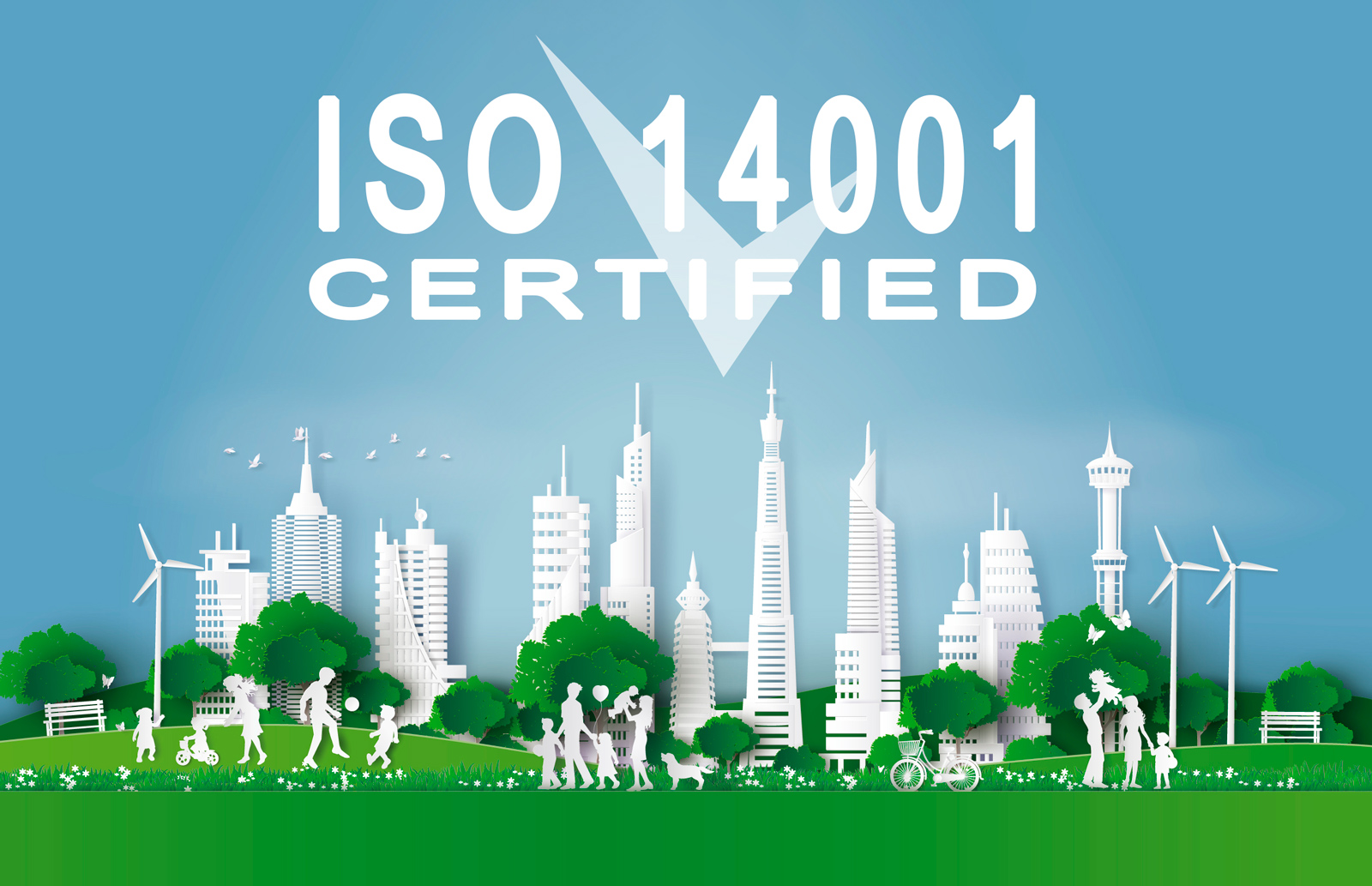 ISO 14001 is een internationaal erkende norm op het gebied van milieumanagement. Een milieumanagementsysteem conform deze norm is ingericht om de prestaties op het gebied van milieu te beheersen en te verbeteren. Via het milieumanagementsysteem, gecertificeerd op basis van deze norm, toont RAM aan dat de organisatie voldoet aan de wet- en regelgeving en dat RAM continu streeft naar verbetering van haar milieuprestaties. QMS International heeft RAM het certificaat verleent. Het voldoen aan wet- en regelgeving is één van de basiseisen in de ISO 14001. In deze norm zijn alle aspecten van een 'compliance managementsysteem' opgenomen waarmee de naleving aantoonbaar kan worden gemaakt:
Identificeren en actueel houden van de van toepassing zijnde wet- en regelgeving
Vertalen van de eisen uit wet- en regelgeving naar de consequenties voor de eigen organisatie
Borgen van de uitvoering
Eigen beoordeling van de naleving
Interne audits
Beoordeling van het resultaat door de directie
Streven naar betere milieuprestaties
ISO 14001 is geschikt voor alle bedrijven (groot of klein, industrie of dienstverlening, profit of non profit) die willen aantonen dat zij voldoen aan de milieuwet- en regelgeving en daarmee verschillende milieurisico's beheersen. Met het ISO 14001 certificaat laten wij zien dat wij streven naar betere milieuprestaties en dat wij duurzaam aan de toekomst bouwen. Voor het datacenter hebben wij bij de aanleg diverse energiebesparende maatregelen getroffen, zoals groene stroom en buitenkoeling.
Volgens het rapport van CE Delft uit begin 2016 'Trends ICT en Energie 2013-2030' nemen datacenters 3% van het totale energieverbruik in Nederland voor hun rekening. Een duurzaam datacenter is meer dan een datacenter dat met een lage PUE ontworpen is. Een energie-efficiënt datacenter meet nauwkeurig geregeld of liefst permanent wat het daadwerkelijke energieverbruik is en zoekt continu naar een optimalisering daarvan. Belangrijke factoren bij duurzaamheid zijn:
Koeling en klimaatbeheersing: beheer luchtstromen, scheiden van koele en opgewarmde lucht (koude- en warmtegangen), buitenkoeling
Energievoorziening, (nood)stroomvoorziening
Bouwkundige voorzieningen, isolatie, brandveiligheid, ruimtebeslag
IT-infrastructuur, kabelmanagement, bandbreedte, piekbelastingen
Monitoring, energieverbruik
Management, investeringen, energiekosten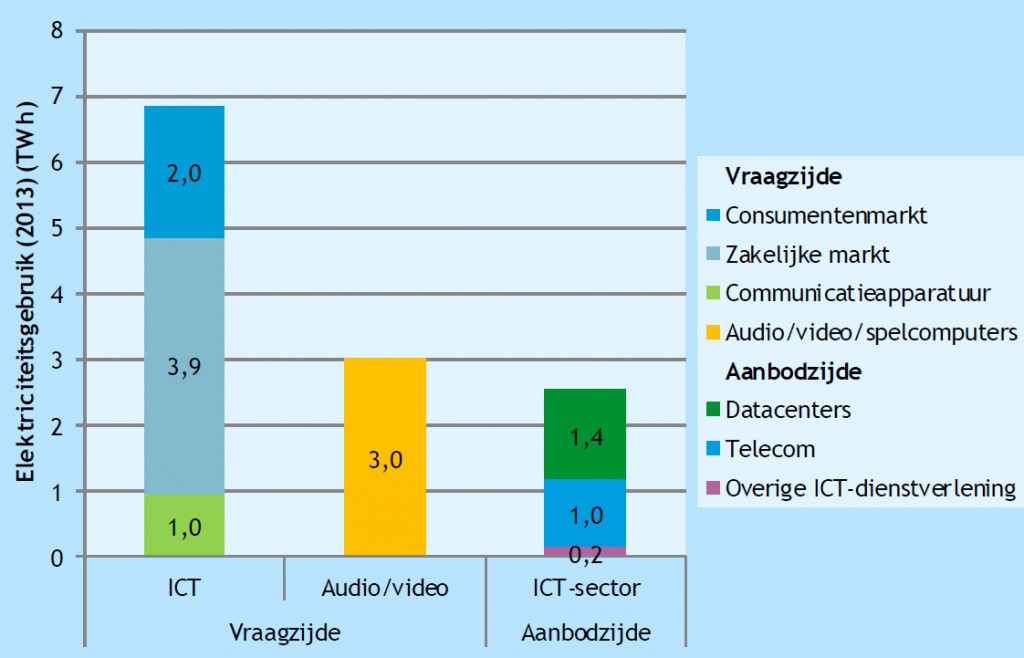 Energiegebruik ICT in Nederland 2013. Bron: CE Delft 
De ramingen voor 2020 en 2030 in het rapport zijn gedaan aan de hand van vijf megatrends die de ontwikkeling van het energiegebruik grotendeels zullen bepalen. Meer verbonden apparaten, het Internet of Things en meer verzameling en gebruik van data zullen zorgen voor een toename van energiegebruik. Anderzijds zullen de trends naar consolidatie in de cloud en efficiencyverbeteringen van ICT-apparatuur doorzetten, wat een sterk energiebesparend effect heeft. Wat betreft de cloud, stelt het rapport: 'serverruimtes bij bedrijven zelf worden minder belangrijk, er wordt steeds meer extern gehost en steeds meer van diensten gebruik gemaakt.'
Certificaten en normeringen
Het ISO 14001 certificaat maakt deel uit van de vele andere certificaten en normeringen die RAM Infotechnology heeft voor haar diensten.
Belangrijkste elementen in de ISO 14001:2015
Milieubeleid ontwikkelen op meer strategisch niveau
Toepassing van levenscyclus perspectief
Aanspreekbaarheid en betrokkenheid directie
Betrekken belanghebbende partijen
Kwaliteit van informatie
Onderbouwing en invulling communicatie in- en extern
Inzicht in de compliance status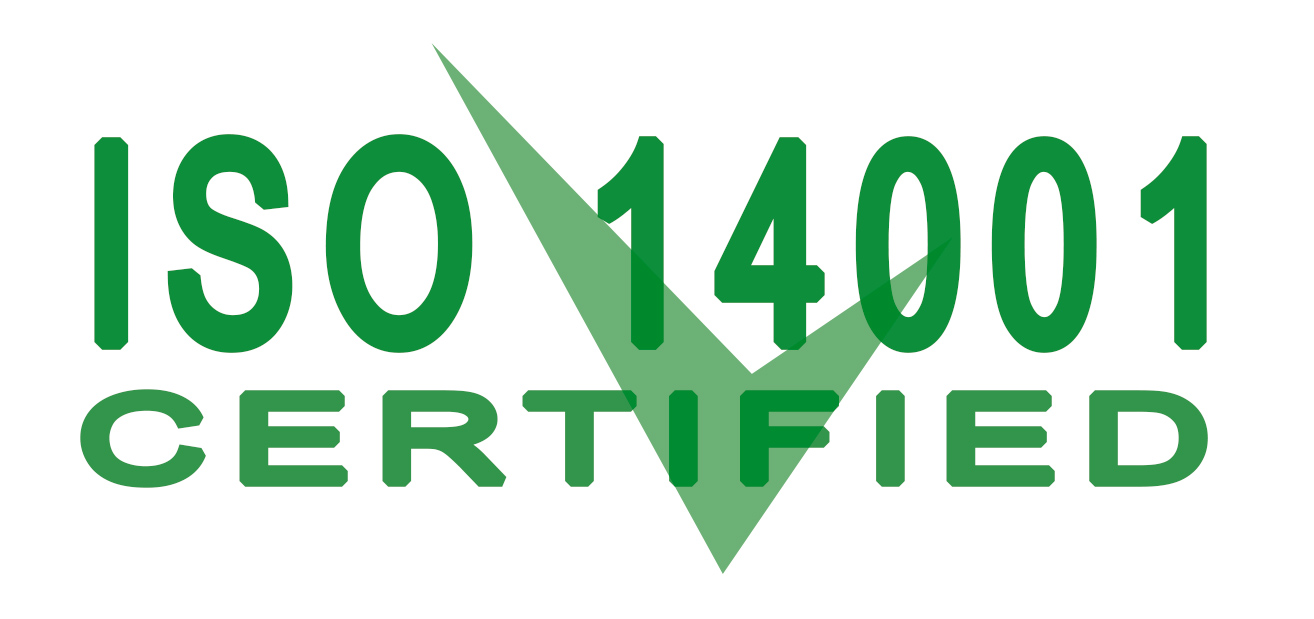 Doelstellingen voor de ISO 14001:2015
Betere verbinding tussen milieu en bedrijfsprioriteiten
Meer transparantie en verantwoording in milieumanagement
Nadruk leggen op positieve bijdrage van de normen voor milieumanagementsystemen
Toelichting van de vereisten voor een verbetering van de milieuprestaties
Versterking van het verband tussen milieubeheer en de kernactiviteiten op strategisch niveau
Benadrukken van het LCA-concept (Life Cycle Assessment) en de inachtneming van de waardeketen met het oog op het identificeren en beoordelen van milieu-impact van producten
Opnemen van een verzoek voor het creëren van externe communicatiestrategie
De wijze van overheidstoezicht op naleving van wet- en regelgeving wordt aangepast, deze wordt 'systeemgericht'. De overheid maakt dan gebruik van de managementsystemen die een bedrijf al heeft. Met een gecertificeerd milieumanagementsysteem zijn bedrijven hierop voorbereid.
Bron: QMSI
Het ISO 14001 certificaat