Alweer het vierde Future Proof ICT adviseursevent van RAM. Dinsdag 5 februari vonden ruim 30 ICT-adviseurs voor de zorg hun weg naar het RAM Infotechnology kantoor in Utrecht. Het thema was dit jaar de Public Cloud. Vier sprekers gaven ieder hun visie op de stand van zaken en blikten vooruit: waar gaat het heen, wat kunnen we verwachten?
Is de Public Cloud future proof?
Peter Vermeulen: Er komt orde in de cloud! De 'spielerei ist vorbei'.
Onze eerste spreker was Peter Vermeulen van onderzoeksbureau Pb7 Research. Hij doet al 20 jaar onderzoek naar de cloud en constateert dat er, eindelijk, orde in de cloud begint te komen. Het cloud-gebruik heeft een kritische massa bereikt. We kunnen de cloud als een digitale nutsvoorziening beschouwen, als water uit de kraan. Dat levert een betrouwbare, flexibele IT-infrastructuur op die bijdraagt aan de digitale transformatie die we overal zien. Daarbij krijgt de hybride-cloud steeds vaker de voorkeur. Bedrijven hebben bij deze transformatie behoefte aan meer controle en zoeken vaker hulp van buitenaf, in intensieve partnerships. Nu men de cloud-potentie echt heeft ontdekt, kiest men voor een bedrijfsbrede strategie en centrale aansturing. De 'spielerei ist vorbei'.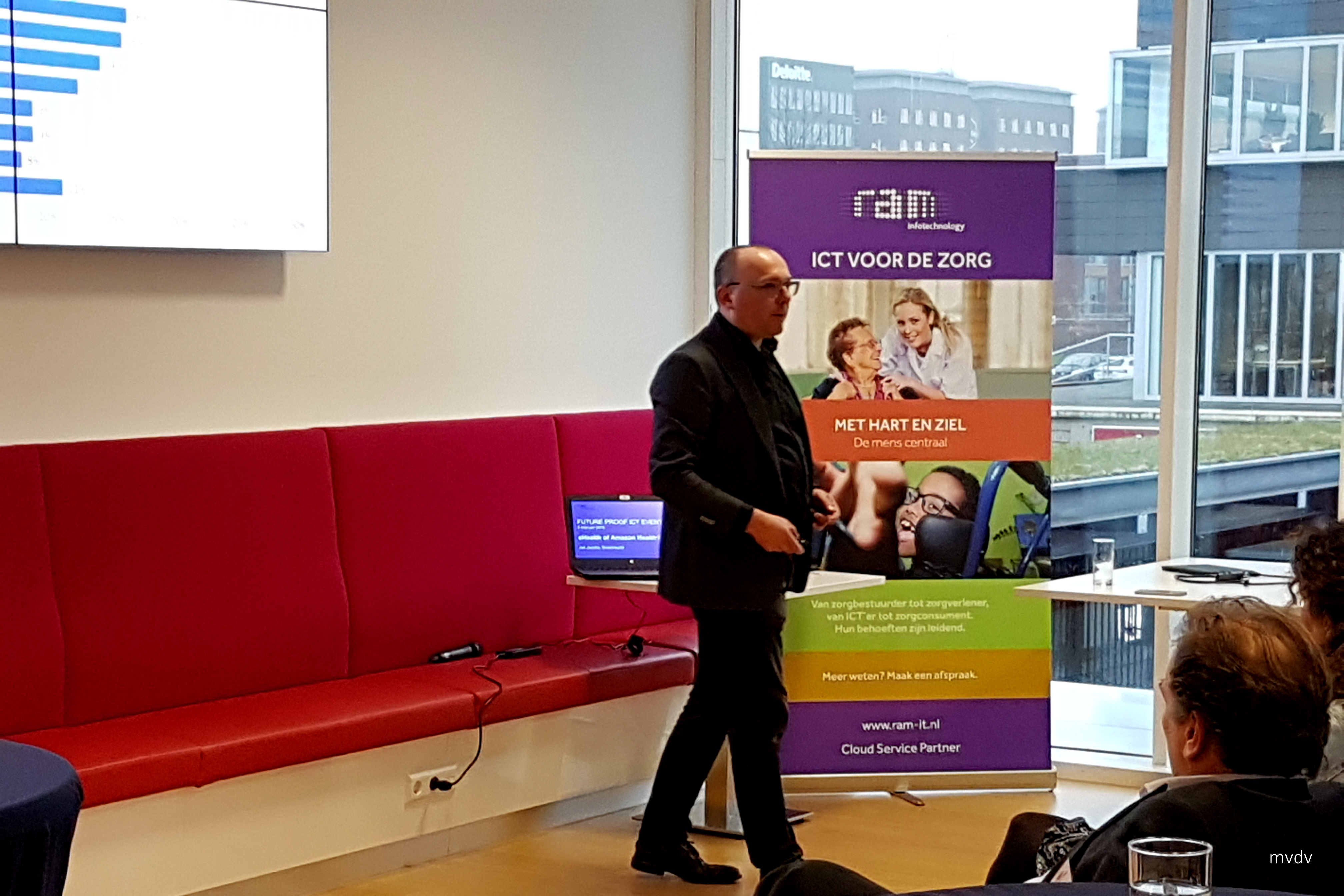 Peter Vermeulen van Pb7 Research doet al 20 jaar onderzoek naar de cloud en constateert dat er nu orde in de cloud begint te komen.
Evert-Jan de kruif en Marco Bruurs: eCumulus en de vier fasen op het Public en Hybrid Cloud pad
De volgende twee sprekers waren van RAM zelf: Evert-Jan de Kruif, teamleider Hybrid Cloud Projects,  en Marco Bruurs, Public Cloud Consultant. Zij lieten ons zien hoe het RAM eCumulus Hybrid Cloud platform is opgebouwd en organisaties in staat stelt hun eigen cloud-pad te volgen. Daarbij onderscheiden zij vier fasen:
Traditionele Private Cloud – vooral legacy applicaties
Private Cloud met Azure apps – overgang naar SaaS en public cloud applicaties
Public Cloud opslag – webwerkplek, device onafhankelijk, veel SaaS-applicaties
G-suite toegang – de hele organisatie werkt vanuit Google G Suite, veel SaaS-applicaties
Daarbij is het niet gezegd dat je altijd bij fase 1 moet beginnen. Het instapmoment hangt samen met de fase waarin je als zorgorganisatie verkeert, wat de staat is van je IT-infrastructuur. Het gaat vooral om het proces dat je daarna volgt. En binnen elke fase kun je als IT-gebruiker zelf de knoppen instellen op het niveau dat bij jou past. De RAM-gedachte "ICT uitbesteden, van alles of niets, naar alles op maat" zien we terug in de manier waarop de cloud ons helpt een stabiele, maar flexibele IT-infrastructuur op te bouwen en te beheren.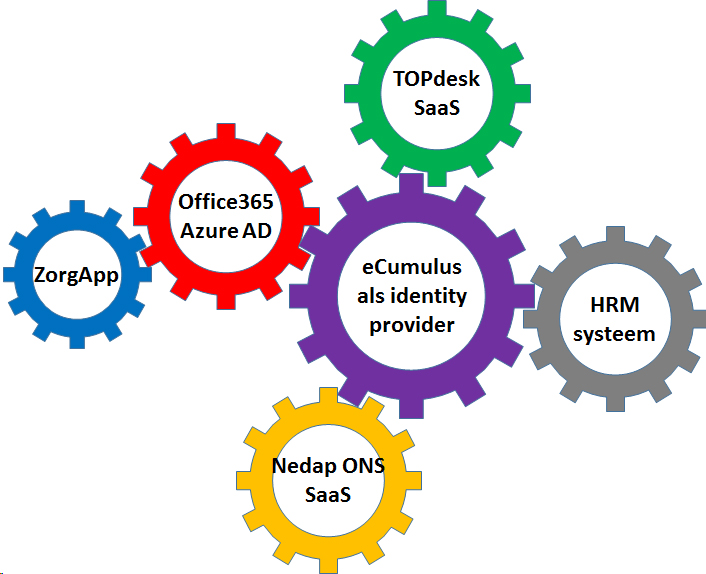 RAM eCumulus als bonkend hart van de IT-infrastructuur in de cloud.
Jan Jacobs: eHealth = Public Cloud
Slotspreker was Jan Jacobs van SmartHealth. Hij liet ons in een visueel boeiende presentatie zien waar de zorgwereld allemaal mee bezig is. Veel voorbeelden komen van buiten Nederland. Daar zie je zie real-time zorg en service. Jan vindt dat ook niet zo vreemd, omdat in Nederland de zorg overal om ons heen zit. Je wandelt in 10 minuten naar je huisarts, dus waarom zou je dan de Zocdoc app installeren om dokters in jouw omgeving te zoeken? In Nederland ligt de focus op een efficiënt communicatieproces, op gemak en bereik. Daarnaast ziet Jan een zelf metende zorgconsument, die meer eigen data verzamelt. Vijf jaar geleden had nog niemand een stappenteller, nu loopt iedereen ermee rond. Digitale diagnose en monitoring leiden tot klinische effectiviteit. Smart homes zorgen ervoor dat we langer veilig thuis kunnen wonen. Big data en AI (Artificial Intelligence) breken nu ook door in de zorg. Een mooi onderwerp voor volgend jaar?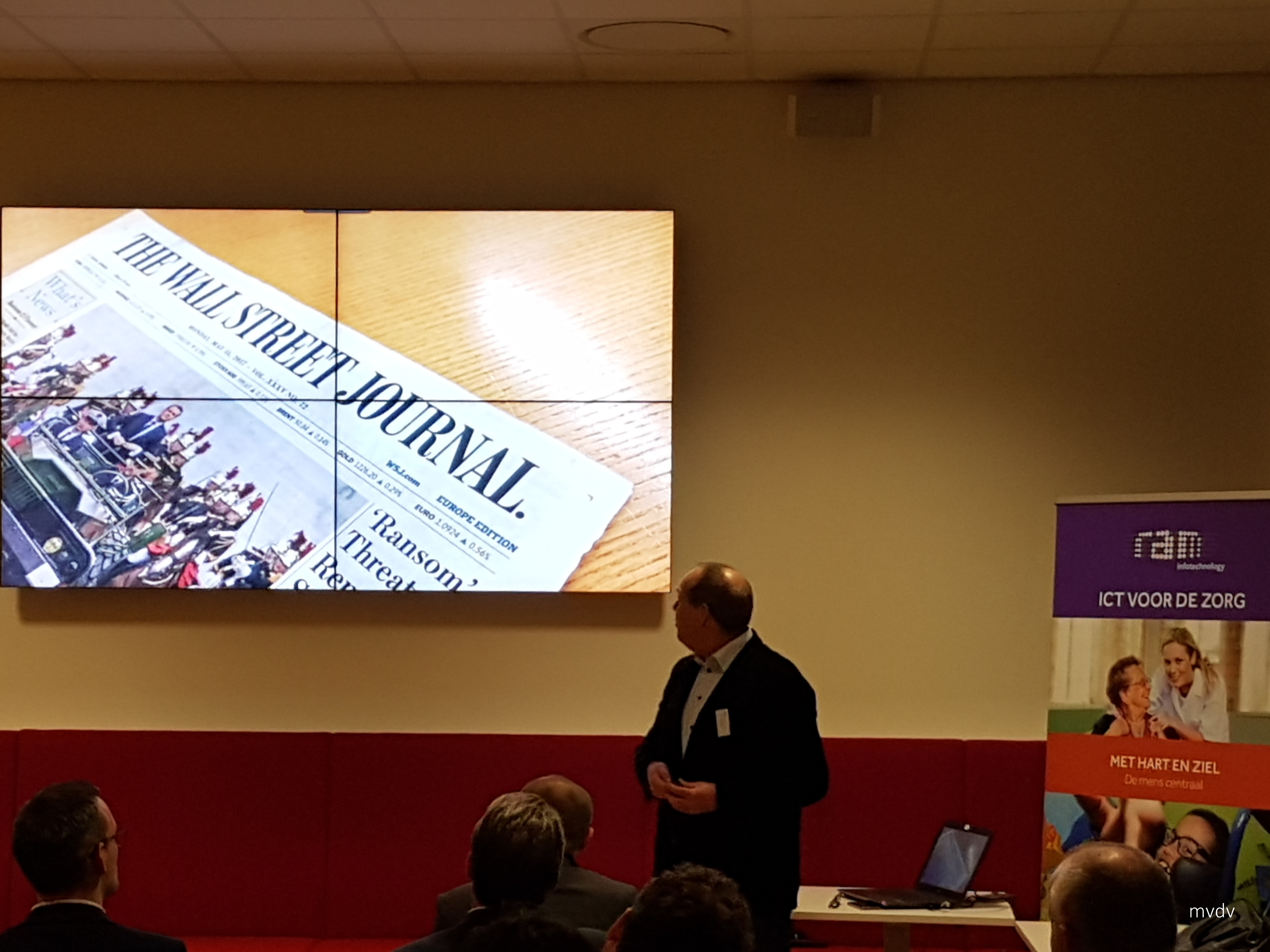 Jan Jacobs startte zijn carrière bij The Wall Street Journal. Nu werkt hij voor SmartHealth en onderzoekt hoe nieuwe digitale zorgtoepassingen succesvol kunnen worden toegepast, zowel door traditionele zorgaanbieders als door nieuwe marktpartijen.
Presentaties opvragen
We danken alle sprekers en adviseurs voor hun komst. Kon u Future Proof ICT 2019 niet bijwonen, maar bent u wel geïnteresseerd in de presentaties van de sprekers? Wendy van Veggel stuurt ze u graag toe.
Stuur mij de presentaties