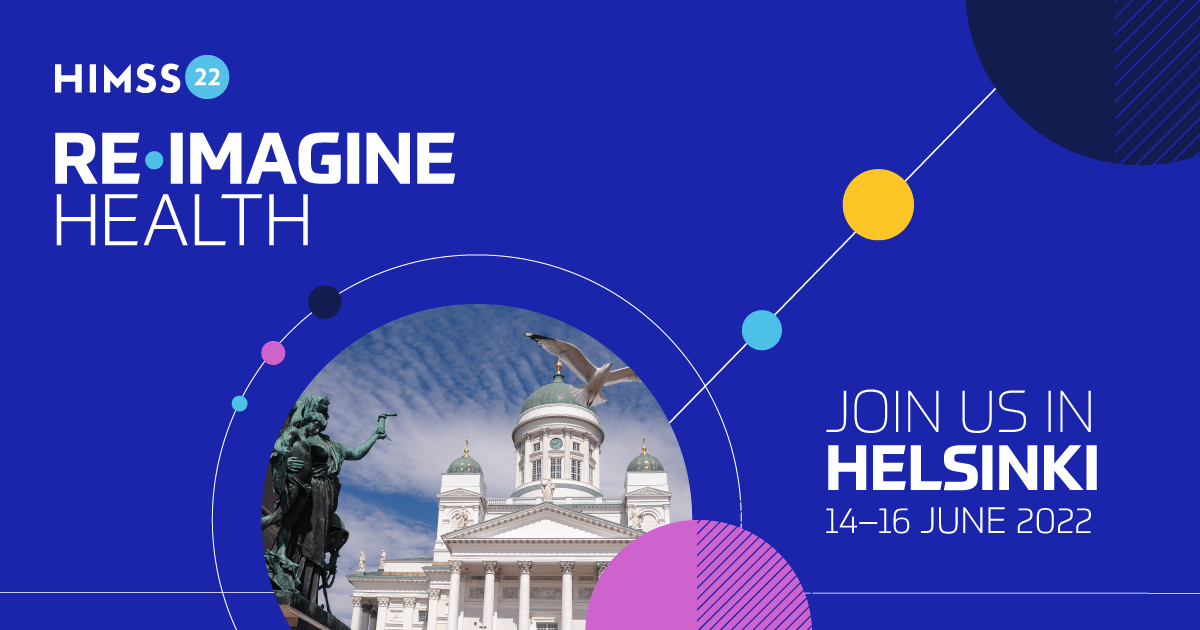 Na twee jaar Covid en dus twee online congressen reisden we dit jaar weer af naar Helsinki voor een live-programma! Zowel op het congres als binnen de Nederlandse reisgroep merkte je dat iedereen het gevoel deelde van 'het mag weer'. Veel energie, veel verwachtingen en goed iedereen weer te zien en te spreken. Maar maakte HIMSS Europe 2022 de verwachtingen ook waar?
Zeker! Vooral over het Nederlandse deel van het programma ben ik heel positief. De beurs zelf vond ik minder, te kleinschalig, te Fins. Het congres-deel daarentegen wordt steeds beter en sluit goed aan op de Europese situatie, met dit jaar enkele zeer boeiende presentaties.
Wat viel daarbij op? Om te beginnen de drie centrale thema's die overal terugkomen op de HIMSS:
Ervaringen vanuit de Covid19-pandemie
Zorg op afstand
Interoperabiliteit, interoperabiliteit, interoperabiliteit
Thema's die wij in ons werk ook dagelijks tegenkomen. Wat voor RAM-IT heel interessant is, zijn enkele nationale en Europese initiatieven binnen deze thema's:
CumuluZ, een Nederlands initiatief voor het delen van medische data
EHDS, de European Health Data Space, een Europees initiatief
Gaia-X, een Europees cloud-initiatief om minder afhankelijk te worden van Amerikaanse en Chinese bedrijven en de regels die buiten Europa worden vastgesteld.
Veel nadruk op data, cloud en interoperabiliteit
Als cloud service provider willen wij zeker op deze initiatieven aansluiten en waar mogelijk er ook richting aan geven om ze verder te brengen. Ze dragen bij aan interoperabiliteit zelf én aan een model waarin de Europese waarden en normen leidend zijn ten aanzien van medische data. De rol van overheid en samenleving om hierin richting en kaders te stellen is cruciaal, zoals een van de sprekers krachtig verwoordde:
"Are we letting technology shape society, or do we want society to shape technology?"
Het laatste doe je door als samenleving (politiek) standaarden, richtlijnen en randvoorwaarden neer te zetten voor het gebruik van ICT voor de zorg. Het citaat belichaamt wat mij betreft echt dat we als Nederlandse en Europese samenleving het stuur in handen moeten nemen om technologie vóór ons te gaan laten werken op een manier die bij óns past. In plaats van de richting die ons mogelijk door technologiegiganten of andere overheden wordt opgedrongen. Een groot verschil in benadering.
Zorg op afstand
Daarnaast heb ik verschillende voorbeelden gezien van zorg op afstand waarbij daadwerkelijk (in Covid-tijd) al ervaring is opgedaan om mensen langer thuis te laten blijven en eerder naar huis te kunnen laten gaan. ICT is daarin een cruciale factor en als RAM-IT gaan we heel sterk inzetten op deze ontwikkelingen.
Samenvattend
Ik vond HIMSS Europe 2022 al met al een geslaagd event waarbij ik verwacht dat de Europese HIMSS meer en meer aan belang zal toenemen voor de EU-markt ten opzichte van Amerikaanse HIMSS. De drie genoemde initiatieven maken dit voor mij al heel duidelijk. Het was goed om weer in Helsinki te zijn!