Huisartsenorganisatie Noord-Kennemerland (HONK), Huisartsenorganisatie Kop van Noord-Holland (HKN) en geestelijke gezondheidszorg organisatie Vicino Noord-Holland Noord, hebben na een uitgebreid selectietraject RAM Infotechnology (RAM-IT) gekozen als hun nieuwe ICT-partner voor de eerstelijnszorg.

Binnen HONK, Vicino en HKN is goed gekeken naar de toekomstige inrichting van de ICT-afdeling. De organisaties hebben in hun nieuwe ICT-visie gezamenlijk gekozen voor het regiemodel. Het thema van de ICT-visie: "Van zelf doen, naar regie op de uitvoering".
'Terecht of onterecht, wij vinden onszelf in de zorg toch altijd uniek en bijzonder'.
Mark Heijnen Coördinator ICT van HONK en Vicino; "Na een uitgebreid en door de Covid-crisis verlengd selectietraject, is RAM-IT de organisatie gebleken die bij ons past. Er zijn vele ICT-leveranciers in Nederland, maar er zijn er maar een paar die binnen de ICT voor Eerstelijnszorg een goede match zijn op het gebied van cultuur, kennis en ervaring in de zorg. Terecht of onterecht, wij vinden onszelf in de zorg toch altijd uniek en bijzonder. RAM-IT heeft in het offertetraject laten zien dat ze goed kunnen luisteren, maar ook gevraagd en ongevraagd advies kunnen geven. Een belangrijke gezamenlijk kernwaarde is samenwerken. Dat is ook precies wat wij zoeken in een ICT-dienstverlener. We zochten een dienstverlener die naast het migratietraject van de oude infrastructuur en kantooromgeving naar Microsoft365, ook het volledige beheer kan doen. Kortom, totale ontzorging. Precies datgene wat wij doen voor de huisartsen, doet RAM-IT op het gebied van ICT voor ons".
Voor de drie zorgorganisaties is RAM-IT gestart op basis van haar eCumulus framework met een hybride omgeving. Inmiddels draait alles in een volledige cloud-omgeving.
Fase 1 ICT voor de eerstelijnszorg:
De migratie van de data.
De in beheername van lokale (netwerk)infrastructuur.
De opzet van een centrale helpdesk en training van gebruikers, zodat de oude omgevingen uitgeschakeld kunnen worden.

Hans de Wit, beleidsmedewerker ICT van HKN: "ICT en verdere digitalisering van het zorgproces is en blijft het thema van de komende jaren. ICT is de fundering die daadwerkelijke zorginnovatie mogelijk maakt".
'Het is een compliment om door deze eerstelijnszorgorganisaties gekozen te worden als ICT-partner'.
Niels van Peer, CCO van RAM-IT: "Het is een compliment om door eerstelijns-zorgorganisaties met een heldere visie als HONK, HKN en Vicino gekozen te worden als ICT-partner.
De samenwerking is vanaf het begin erg prettig tussen beide organisaties, waarbij we gezamenlijk tot het gewenste resultaat zijn gekomen. Nu we live zijn, kijken we er naar uit om samen innovatieve stappen te gaan maken in de ICT voor de eerstelijnszorg met dienstverlening voor zowel software als infrastructuur".
Over HONK
HONK maakt zich sterk voor goede, toekomstgerichte huisartsen- en eerstelijnszorg. HONK is actief in de regio Noord-Kennemerland, een gebied in Noord-Holland met ongeveer 280.000 inwoners. Met de huisartsenpost faciliteren zij spoedeisende huisartsgeneeskundige zorg in de avond-, nacht- en weekenduren. Ook faciliteert HONK multidisciplinaire ketenzorg. Dat betekent dat meerdere eerstelijns zorgverleners in samenhang zorg leveren. Dit doen zij voor mensen met (een verhoogd risico op een) chronische aandoeningen en kwetsbare ouderen.
Daarnaast biedt HONK verschillende diensten aan huisartsen en andere zorgverleners in de eerste lijn op het terrein van praktijkorganisatie, kwaliteitsbevordering, ICT, samenwerking met ketenpartners en facilitaire ondersteuning.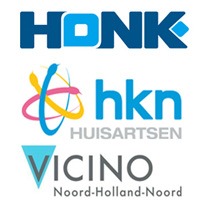 Over Vicino
Vicino is een regionale organisatie die de zorgverlening voor mensen met lichte tot matige psychische en/of sociale klachten organiseert in Noord-Holland Noord. Dit doen zij doorpraktijkondersteuners GGZ (POH-GGZ) aan te bieden aan huisartsen.
Daarnaast heeft Vicino nauwe samenwerkingsafspraken met o.a. psychologen (GB-GGZ) en psychiaters (S-GGZ). Vicino draagt zorg voor het maken en nakomen van collectieve regionale afspraken.
Over HKN
HKN is een organisatie van en voor huisartsen in de Kop van Noord-Holland. De huisartsencoöperatie, huisartsenpost en ketenzorg zijn verenigd in één organisatie. HKN werd opgericht in 2006 en behartigt de belangen van de aangesloten huisartsen en ondersteunt hen in hun werkzaamheden en de organisatie van hun praktijk. Het betreft zowel de zorg overdag als tijdens avond, nacht en weekend (ANW-zorg) in de gemeenten Hollands Kroon, Texel, Schagen en Den Helder. Het gebied telt circa 150.000 inwoners.
Meer weten over ICT voor de eerstelijnszorg?