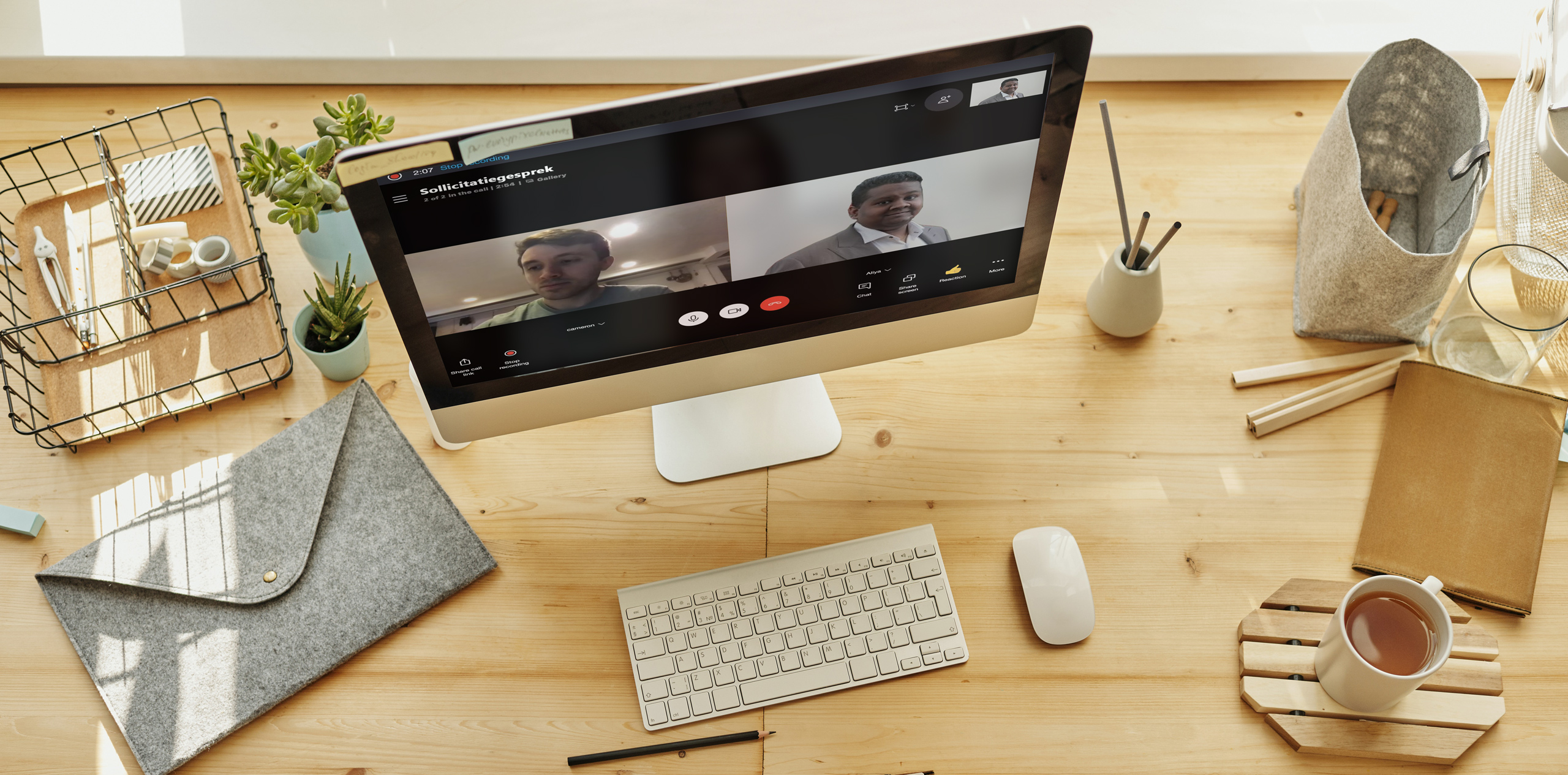 Solliciteren in coronatijd bij een IT-bedrijf
Corona heeft ons leven in korte tijd drastisch veranderd. Solliciteren in coronatijd bijvoorbeeld, en starten met een nieuwe baan. Hoe gaat dat? We spraken erover met Deepak Goerdial, teamleider van de afdeling Hosting & Cloud Operations bij RAM Infotechnology (RAM-IT).
Ondanks de coronacrisis zijn er bij RAM-IT diverse openstaande vacatures en daar wordt actief op gereageerd. 'Sinds maart heb ik zeker zestig kandidaten gesproken,' zegt Deepak. Op zijn afdeling werken momenteel 21 mensen en de komende maand starten er nog een paar nieuwe collega's. 'Ik heb de afgelopen weken veel goede engineers gesproken. Van een deel van hen is het contract vanwege de coronacrisis niet verlengd en die zijn nu op zoek naar een nieuwe baan. Daardoor hebben we even een duidelijke piek gezien in het aanbod.'
Goed beeld van de kandidaten
Regelmatig heeft Deepak contact met diverse werving- en selectiepartners. 'Zij voorzien mij bijna dagelijks van cv's. Die scan ik zelf, maar daarnaast laat ik ze ook door één of twee engineers bekijken,' vertelt hij. 'Ik vind het belangrijk om hen daarbij te betrekken. Als er een interessant cv bij zit, geef ik de recruiter een seintje. Vervolgens plannen we een gesprek in. Die gesprekken doen we nu allemaal online, via Teams.' Zo'n Teamsgesprek verschilt niet veel van een fysiek sollicitatiegesprek, vindt Deepak. 'Natuurlijk is het fijn om iemand in levenden lijve te ontmoeten, maar online gaat het ook prima. Het enige nadeel is dat de techniek heel soms hapert. Dan versta je iemand bijvoorbeeld even niet goed, of het beeld valt stil. Maar over het algemeen lukt het prima en heb ik na een uur een goed beeld van de kandidaat.'
Laagdrempeliger
En, lacht Deepak, een online gesprek heeft ook zo z'n voordelen, 'Op kantoor is het soms lastig om een kamer geboekt te krijgen vanwege de drukte. Dat probleem is er nu niet. En eigenlijk is dit wat laagdrempeliger. Het maakt niet uit waar je bent, je kunt direct aan de slag.' Ook sollicitanten reageren volgens hem positief op het videobellen. 'We horen vaak dat ze het een leuk gesprek vonden. Solliciteren in coronatijd is zeker niet alleen maar problematisch.'
Gouden tip voor sollicitanten
Heeft hij nog een tip voor sollicitanten om zich zo goed mogelijk voor te bereiden op een online sollicitatie? 'Ja, ik heb één gouden tip,'  antwoordt Deepak. 'Probeer als het even kan te zorgen voor een rustige omgeving.
Hoewel dat natuurlijk soms niet lukt, bijvoorbeeld als je kinderen hebt die niet naar school kunnen. Daar hebben we natuurlijk alle begrip voor. Nog een tip: test van tevoren even of alles werkt. Of je camera goed staat en of de microfoon het doet. En ten slotte: zorg dat je er een beetje representatief uit ziet. Je hebt maar één kans voor een eerste indruk, ook online!'
Eerste werkdag
En als een kandidaat wordt aangenomen, hoe ziet de eerste werkweek bij RAM-IT er in coronatijd dan uit? Deepak: 'We nodigen de nieuwe medewerker uit om de eerste werkdag fysiek naar kantoor te komen. meestal ben ik er zelf ook, en daarnaast zijn er altijd een of twee andere engineers uit het team aanwezig. Zo proberen we ook in deze tijd voor een warm welkom te zorgen.' De dag begint met een intake bij HR om een aantal formaliteiten te regelen. Vervolgens krijgt de medewerker een rondleiding door het pand. 'Dat kan nu prima, want het is overal lekker rustig,' lacht Deepak. 'Verder krijgt de medewerker zijn toegangspasje en zorgen we dat de hardware wordt uitgeleverd. Ook regelen we de toegang tot ons intranet, want daar is een heleboel praktische informatie over onze organisatie te vinden.'
Teams up and running
Uiteraard wordt ook de installatie van Teams niet vergeten, een essentieel onderdeel van de inwerkperiode in coronatijd. 'Wanneer dat up and running is, kun je ook met andere engineers meekijken,'  verklaart Deepak. 'Als dat na een tijdje allemaal goed loopt, gaat de nieuwe medewerker zelf aan de slag en kijkt een van de collega-engineers virtueel met hem mee. Dus ook dat gaat eigenlijk net zoals we het voorheen fysiek deden.'
Nieuwe collega's
De kennismaking met de nieuwe collega's verloopt in coronatijd natuurlijk wél iets anders. 'We hebben een WhatsApp-groep met alle engineers,' vertelt Deepak. 'En op Teams hebben we ons eigen teamkanaal. Daar introduceer ik de nieuwe medewerker.' Normaliter heeft hij met zijn voltallige team één grote teammeeting per week, maar ook dat pakt hij nu iets anders aan. 'De meeting splits ik op in twee disciplines, zodat de groep wat kleiner is. Als nieuwkomer ga je daar natuurlijk gelijk in mee. Ook zorg ik de eerste meeting voor een kort introductierondje, om de nieuwe medewerker zich zo snel mogelijk thuis te laten voelen.' Hij besluit: 'We leven momenteel in een bizarre tijd en dat vraagt om een stukje flexibiliteit en aanpassing van iedereen. Maar ik moet zeggen: het wordt door iedereen goed opgepakt.'
Solliciteren in coronatijd?
Bekijk ons actuele aanbod vacatures >