Deze en 19 andere trends op Future Proof ICT netwerkevent
Niels van Peer
Woensdag 17 februari waren ruim 30 ICT-adviseurs bij ons te gast op ons eerste netwerkevent over Future Proof ICT. RAM-directeur Dirk Fabels opende, mede namens zijn collega Joachim Kaarsgaren, het event met de constatering dat 'connectivity' centraal staat. Verbinden slaat de klok op alle niveaus van de keten van informatievoorziening.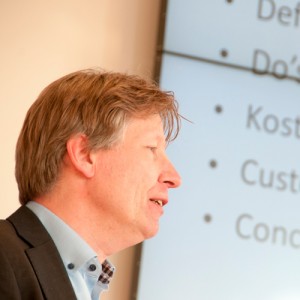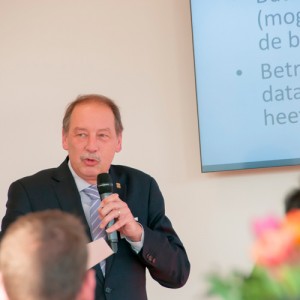 Mijn collega's Wouter Levenbach en Frank Waarsenburg leidden het onderwerp in met hun visies op trends in de cloud en security in de (public) cloud. Wouter stelde fijntjes vast dat de cloud inmiddels een haast 'heilige' status heeft bereikt en bracht daar de nodige nuances in aan. Hij signaleerde een aantal trends en nam ons mee in een serie do's en don'ts. De Gartner Cloud Hype Cycle en Gartner Top-10 Cloud Myths zorgden voor het juiste perspectief.
Azure voor € 4 of € 2400 per maand?
Interessant was zijn voorbeeld over kosten. Als je bij Microsoft kijkt naar de prijzen voor Azure, kun je al starten voor ruim € 4 per maand. Vul je vervolgens de Azure prijscalculator in, dan kom je uit op € 2400! Prijzen voor public oplossingen lijken heel transparant, in de praktijk zijn ze zeer complex. Het is belangrijk dat wij bij klanten het juiste perspectief schetsen en de verwachtingen goed managen. Wat Wouter betreft is de cloud zeker geen hype. De vraag is vooral: welke cloud heb je nodig? De hybrid cloud biedt 'best of both worlds' en heeft zijn voorkeur.
Geen DIP'er, maar DIM'er
Frank opende zijn presentatie met een overzicht van de waarde van 'gestolen' data op internet. Voor credit card gegevens krijgt een hacker $ 28, voor health data $ 50 en voor bankgegevens $ 1000! Het probleem is dat een financiële hack gemiddeld na 98 dagen wordt ontdekt en een retail hack zelfs pas na 197 dagen. De wet meldplicht datalekken moet verbetering brengen in de situatie. Onderwijl kunnen we zelf ook al heel veel doen aan de security van data. Frank benadrukte dat het belangrijk is om mee te denken met de business: 'zorg voor oplossingen die in de praktijk functioneren. Wees geen Denker In Problemen, maar een Denker In Mogelijkheden'.
Bekijk de presentaties van Dirk Fabels, presentaties van Dirk Fabels, Wouter Levenbach en Frank Waarsenburg [Download niet gevonden].
ICT-trendwatcher Richard Lamb
De afsluitende presentatie was in handen van trendwatcher Richard Lamb. In een klein uur wervelde hij door grote en kleine ontwikkelingen in ICT. Hij ziet Technology als een 'Enabler' en de Human als 'Disabler'.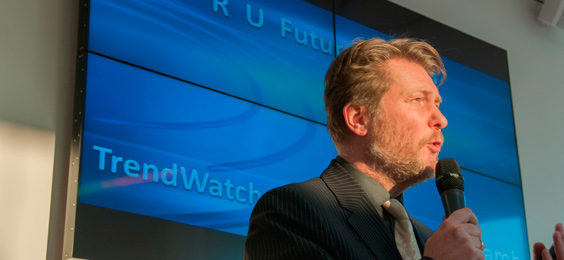 Aan het eind daagde hij ons uit zelf als trendwatcher te denken. Dat leverde een mooie serie van 20 trends op. Ik noem ze kort. Bepaal voor uzelf wat u belangrijk vindt. De laatste trend is er een waarvan wij overtuigd zijn dat die nog jaren voortduurt.
20 trends over Future Proof ICT
1.    Hardware wordt een commodity. Informatie maakt het onderscheid, zeker wanneer IoT doorbreekt
2.    Re-shoring. We gaan Informatisering en Intelligentie combineren en dat doen we weer liever in Europa dan in het Verre Oosten
3.    Meer informatie uit het veld combineren met centrale data
4.    Consumerization van business IT
5.    Koppeling tussen 'Mijn EPD' en zorginformatie van zorginstellingen
6.    Zorgprofessionals stellen hogere eisen aan devices en systemen
7.    We worden overvoerd met data. We gaan sturen op relevantie
8.    In de acute zorg blijft informatieaanbod stijgen. Er wordt steeds meer gevraagd. Dit leidt tot clashes. Er is behoefte aan balans
9.    DNA is nu al in 3 uur te bepalen. DNA gaat grotere rol spelen in gedrag (wat wel/niet eten, welke medicijnen)
10.    We gaan van uurtje-factuurtje naar resultaat gebonden honorering. Ook de service providers
11.    De Wet van More (computercapaciteit verdubbelt elke 18 maanden) houdt stand. Geldt ook voor AI en sensortechnologie
12.    Gezondheidsdossiers kinderen kunnen van invloed zijn op toekomst. Ouders houden zaken uit het dossier.
13.    Meer webwinkels. Buy on the fly, je hebt niet meer door dat je in een webwinkel koopt
14.    Versimpeling van vormen van identificatie
15.    Algoritmen worden steeds belangrijker. Chocola maken van data
16.    Mensen geven hun privacy op
17.    We gaan van IoT via IoE(verything) naar IoM(e)
18.    Pay per use en pay per user. We gaan van koop naar dienst
19.    Zorginstellingen willen controle en regie zonder gedoe
20.    RAM gaat dit event jaarlijks herhalen
Trendsverwachting 2016 van Richard Lamb.