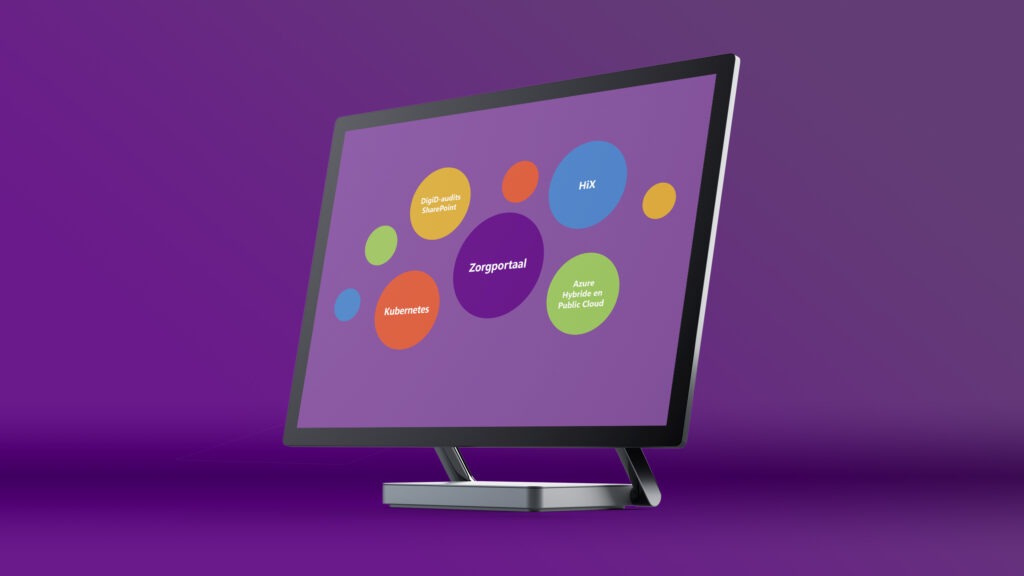 Het CS-Zorgportaal migreren naar Kubernetes: 1 mei 2024 is de deadline voor de Zorgportalen die nog op SharePoint draaien.
Chipsoft heeft haar nieuwe, state-of-the art CS-Zorgportaal ontwikkeld met containertechnologie van Kubernetes. Ziekenhuizen en andere zorginstellingen die hun CS-Zorgportaal nu op SharePoint 2019 hebben draaien, moeten voor 1 mei 2024 de overstap naar Kubernetes maken. Wat speelt erin de markt, wat zijn de behoeften en keuzes?
We spreken hierover met Peter Zwambach, New Business Manager Healthcare, en Ruud van den Hurk, Lead Engineer en HiX-expert bij RAM Infotechnology.
De huidige situatie van het CS-Zorgportaal
Peter: "Inmiddels hebben alle ziekenhuizen en gelieerde cure-instellingen hun CS-Zorgportaal gemigreerd naar SharePoint 2019. Maar de NCSC-richtlijnen en het DigiD-normenkader 3.0 zijn zo aangescherpt dat ook SharePoint 2019 niet langer voldoet. Naar verwachting zullen per 1 mei 2024 de auditors elk Zorgportaal op SharePoint-technologie afkeuren. Dat levert direct risico's op voor de DigiD-audits en dat kan niemand zich permitteren. Daarnaast stellen zij steeds hogere eisen aan de veiligheid van privacygevoelige data en de veiligheid van het Zorgportaal. Tegelijkertijd verlangen patiënten meer inzage in hun medische dossiers en nemen zij de regie over hun zorg. Ziekenhuizen voelen de toenemende verantwoordelijkheden en aansprakelijkheden die daaruit voortvloeien. Hoe kunnen ze hiermee omgaan?"
Nieuw platform, nog complexer
Ruud: "Dat laatste is zeker een vraag als we kijken naar de technologie van Kubernetes. Die is veelbelovend, maar ook complex, veel complexer dan bij SharePoint. We hebben het dan over de infra, services, maar ook over beheer en technische expertise. Veel zorginstellingen vragen zichzelf nu af of zij de benodigde specifieke kennis wel in huis hebben of willen halen? Kan de interne organisatie deze complexiteit aan, hoe garandeer je de kwaliteit van het nieuwe CS-Zorgportaal? Het Zorgportaal is een platform dat zich er uitstekend voor leent om uit te besteden. En vergeet niet, de technologie van Kubernetes is in de toekomst wellicht ook interessant voor andere toepassingen van HiX, zoals HiX Application Services en/of Comez. Met 1 mei 2024 in het vooruitzicht is het nu het juiste moment die afwegingen te maken."
Profiteren van onze hosting ervaring
Peter: "Klopt. Het CS-Zorgportaal migreren naar Kubernetes draait om architectuur, security en beheer. Daar ligt ook onze kracht. We kennen de best practices voor Kubernetes en Zorgportaal. En of we het Zorgportaal hosten in ons eigen datacentrum, Azure als public cloud gebruiken of voor een hybride oplossing kiezen, die keuze maken we altijd in overleg met de klant. En wij weten als geen ander wat de behoeften zijn van zorginstellingen. De zorg is onze focusmarkt. Wij lopen daar dagelijks rond en bedienen onze zorgklanten op de meest uiteenlopende terreinen."
Binnen 1 jaar voorbereid zijn op de nieuwe situatie
Ruud: "Azure, public, private, hybrid cloud, certificaten, licenties, de security eisen van het NCSC, kosten, alles speelt een rol bij het Zorgportaal. Het is onze ambitie om onze klanten hierbij te helpen op een manier die past bij hun organisatie en hun visie op ICT. Het is daarbij een groot voordeel dat wij al jaren beschikken over een eigen zeer geavanceerd datacenter en alle certificaten en normeringen voor ICT voor de zorg, zoals NEN 7510, ISO 27001 en SOC2. Al met al hebben zorginstellingen nog maar 1 jaar om over te stappen. Wij helpen hen die stap op een gedegen manier te maken."
Maak een afspraak met onze cure-experts
Ziekenhuizen en zorgorganisaties die in de transitie zitten van hun  Zorgportaal nodigen wij van harte uit voor een oriëntatiegesprek. Hoe ziet het traject eruit, welke factoren spelen een rol, wat zijn valkuilen en succesfactoren? Maak een afspraak met Peter Zwambach, Ruud van den Hurk of Johan Mulder en leg de basis voor een betrouwbare en beheerbare toekomst voor uw Zorgportaal van ChipSoft.