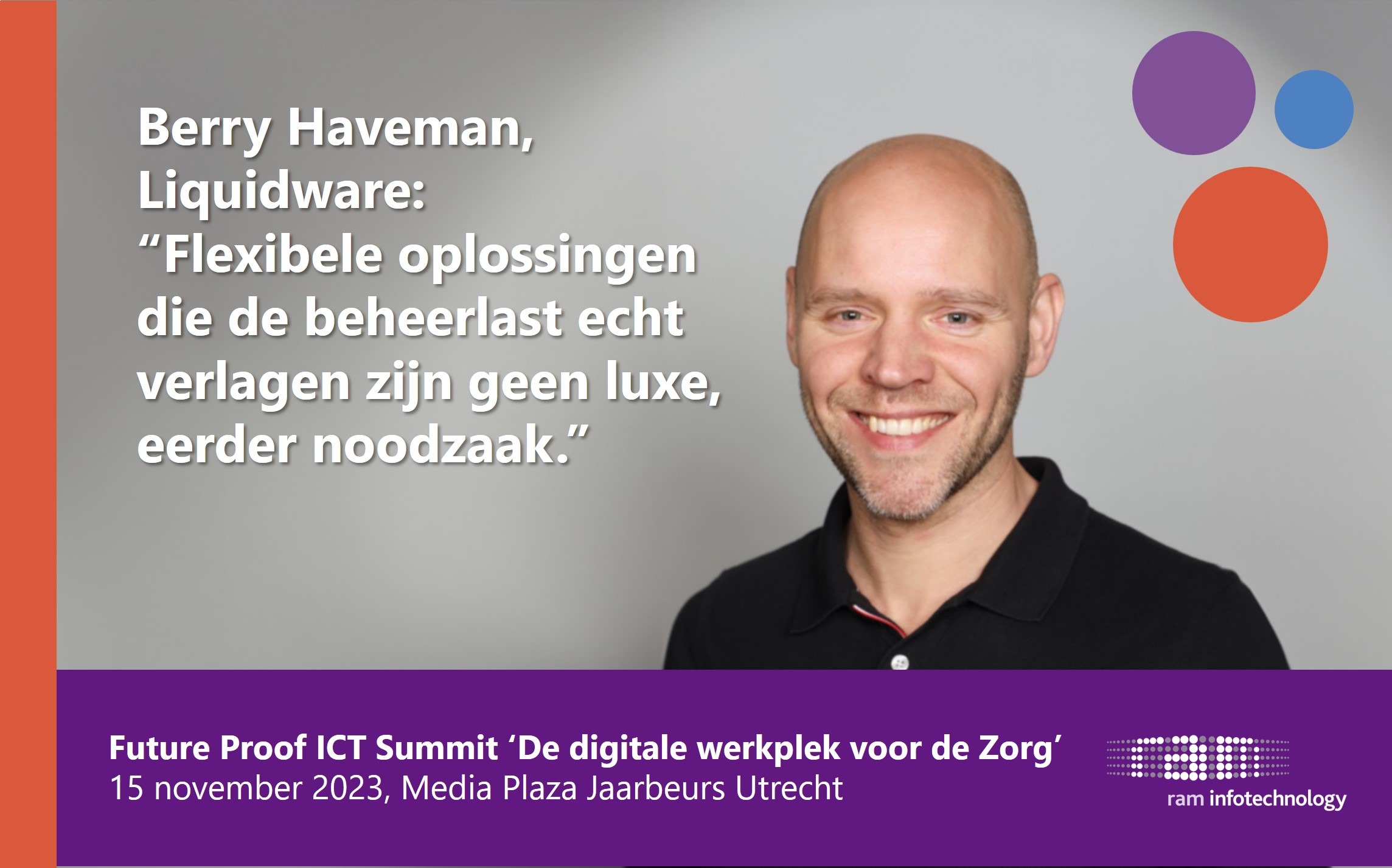 De toekomst vraagt om flexibele oplossingen
Berry Haveman, solution architect bij Liquidware, is erg enthousiast over de ontwikkelingen in de zorgmarkt wanneer we het hebben over de digitale werkplek. Berry is dan ook een van de sprekers op ons Future Proof ICT Summit op 15 november.
"In de zorg zien we een versplinterd werkpleklandschap waar ook nog eens vele gespecialiseerde applicaties op moeten kunnen draaien. Dit heeft grote gevolgen voor de beheerlast en -kosten voor IT-teams. Onze visie is dat het er voor de eindgebruiker en beheerorganisatie niet toe doet hoe de werkplek er vandaag, morgen of over een jaar uit ziet. Het is ons doel dat waar te maken. Wij leggen daarom de nadruk op platformonafhankelijk en daarmee flexibel beheer. Verandert een onderdeel van de werkplek? Zijn er andere eisen rondom security? De manier van applicaties en gebruikers beheren blijft hetzelfde, over al die verschillende soorten werkplekken heen. Dit levert voor de beheerorganisatie veel flexibiliteit en efficiëntie op, voorkomt onnodige kosten en frustratie, en is bovendien toekomstbestendig."
Berry Haveman: "Vergeet niet, NIS2 komt er dit najaar aan!"
"De manier waarop wij die toekomstbestendigheid bereiken is door de applicaties en gebruikersomgeving los te koppelen van het OS. Dit maakt het veel eenvoudiger om wijzigingen aan te brengen of security updates uit te voeren. En vergeet niet, NIS2 komt er dit najaar aan, security krijgt daarmee nog meer prioriteit. Snel en eenvoudig kunnen updaten van applicaties wordt daardoor nog belangrijker, terwijl de capaciteit binnen beheerteams niet parallel toeneemt. Kortom, voor ons betekent 'Future proof' applicatiemanagement voor de moderne werkplek, denken vanuit flexibel beheer en veilig werken tegen lagere kosten. 15 november is het ideale moment om het er met elkaar over te hebben. Dus meld je aan en praat mee over de toekomst van de ideale werkplek voor de zorg."
Kom 15 november ook naar Media Plaza Jaarbeurs Utrecht en luister naar Berry Haveman zijn hele verhaal.