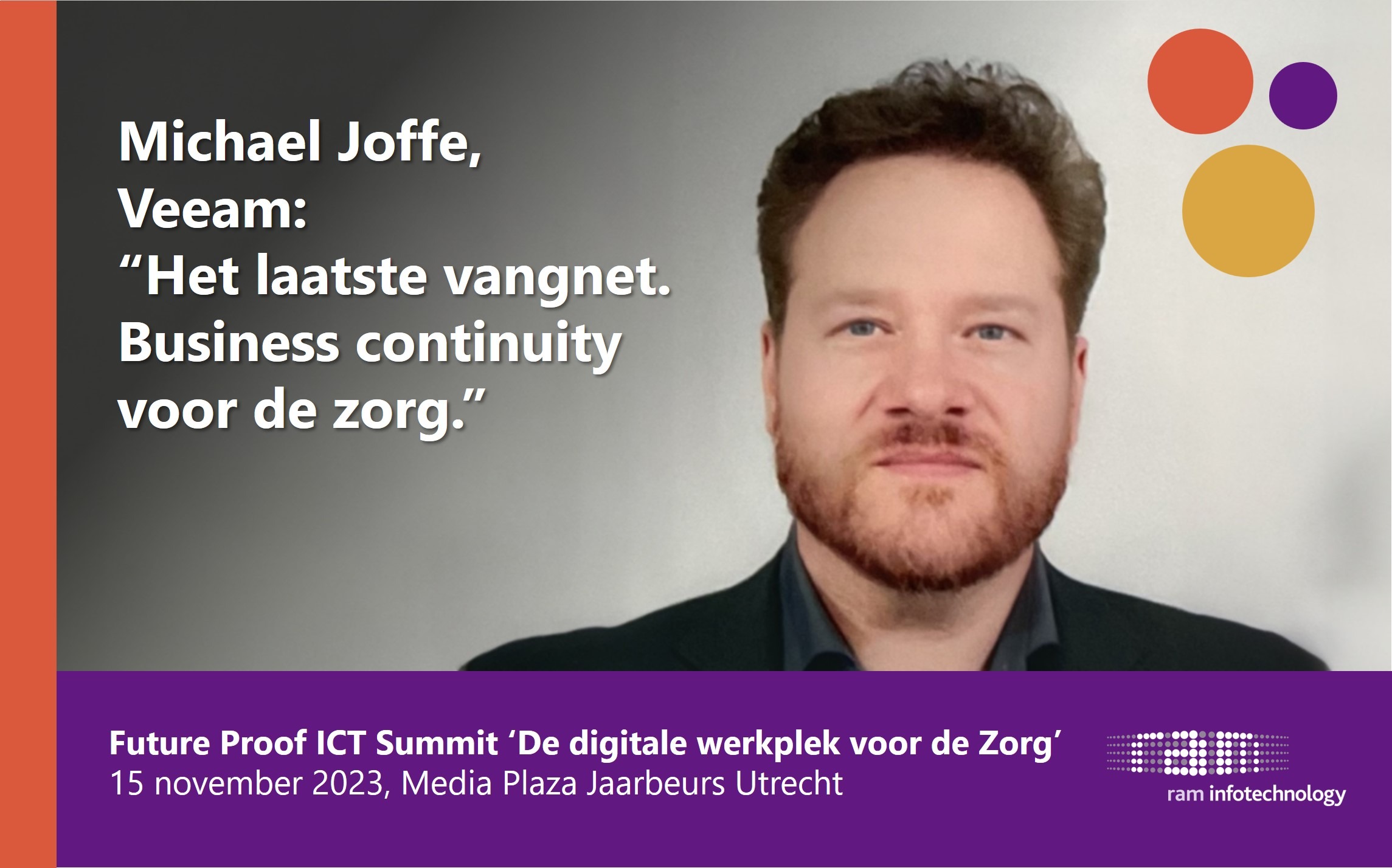 Compliance checks zijn keihard nodig en meer dan een vinkje
Michael Joffe, system engineer bij Veeam, is één van de sprekers op het RAM-IT Future Proof ICT summit "De digitale werkplek in de zorg". Hij vertelt over privacy, ransomware, veilige back-ups en de onderschatting van  compliance checks. Hoe voorkom je dat back-ups gehackt of geïnfecteerd worden? Michael neemt ons mee aan de hand van usecases uit de zorg over back-upoplossingen die future proof zijn en blijven.
"Een back-up is iets waarvan je hoopt dat je het nooit nodig hebt, maar je maakt hem niet voor niets. En zeker in deze tijden van cybercrime en hackers is de back-up vaak het laatste vangnet. Dus die moet gewoon 100% in orde zijn. De back-up is een aanvulling op je security en onmisbaar voor business continuity. Toch wordt het vaak onderschat of zelfs verwaarloosd! Compliance checks zijn keihard nodig en meer dan een vinkje. Vergeet niet dat ook back-ups gehackt of geïnfecteerd kunnen zijn. Dus wanneer je een veilige back-up keurig terugzet, wil dat nog niet zeggen dat je uit de brand bent. Immutability, een back-up die niet te veranderen is, en login reporting zijn methoden om grip te houden op je back-up. En net zo belangrijk als het maken van de back-up is het terugplaatsen. Dat moet ook ransomware proof gebeuren, want je wilt geen vervuiling in je data."
Michael Joffe: "Ook back-ups kunnen gehackt worden"
Kom 15 november ook naar Media Plaza Jaarbeurs Utrecht. Michael Joffe van Veeam is een van de vele sprekers over Future Proof ICT voor de zorg.