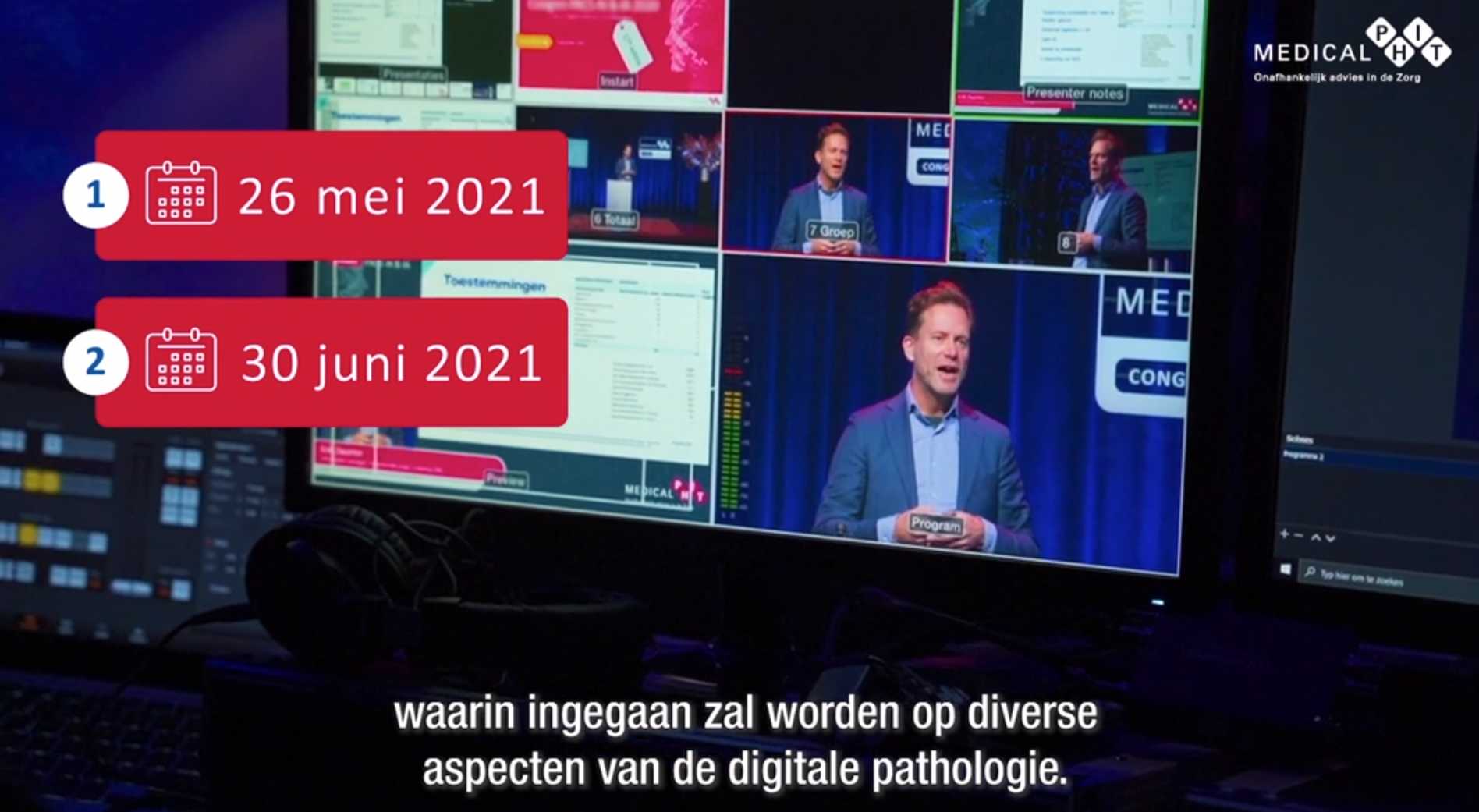 Verslag van de MedicalPHIT seminars over digitale pathologie.
AI reduceert tijdrovende zaken en verlaagt foutenkans. Interoperabiliteit versterkt samenwerking
Medical PHIT organiseerde op 26 mei een online seminar over Computational pathology en AI (Artificial Intelligence) en op 30 juni over Samenwerken door interoperabiliteit. Wij waren daar ook bij aanwezig als leverancier.
26 mei: Computational pathology en AI
Hoe past AI binnen de pathologie? De diverse sprekers gingen er heel diep op in. Prof. Dr. Paul van Diest, klinisch patholoog en hoofd Pathologie van UMC Utrecht, hield juist een breder verhaal. De UMCU heeft al een roadmap voor de implementatie van AI in de pathologiepraktijk. Uit onderzoek blijkt dat een AI-algoritme voor het vinden en graderen prostaatkanker betere resultaten oplevert dan de menselijke beoordeling.
Gelukkig hebben steeds meer labs al een digitale infrastructuur en een volledige digitale workflow en kunnen ze AI technisch implementeren. De transitie van onderzoek en ontwikkeling naar de klinieken is de grootste uitdaging. Hoe breng je de algoritmes naar de klinieken? Er is veel innovatie, maar helaas nog weinig transformatie en implementatie. Geld en mankracht, denk aan data-analisten, zijn de grootste zorg.
Het pleidooi is om samen op te trekken en niet als individuele pathologieorganisatie het wiel uit te vinden. Een geluid wat we in de zorg ook regelmatig horen op andere innovatiegebieden. Vanuit het RAM-IT perspectief is het duidelijk dat technische infrastructuur voor hosting en data sharing staat.
De platformen voor productie, test en acceptatie waarop deze ontwikkelingen plaatsvinden, hebben wij al werkend, bijvoorbeeld voor het PALGA/SECTRA PIE-netwerk (Pathology Image Exchange) en het BK2020 (Bevolkingsonderzoek Borstkanker) project. Op dit moment wijken sommige labs nog uit naar het buitenland, maar dat is nergens voor nodig. Alle benodigde expertise en technologie is volledig aanwezig om pathologie en AI te ondersteunen bij hun volgende stappen. Wij sluiten ons volledig aan bij de conclusie dat de tijd rijp is voor AI binnen pathologie.
Lees onze cases over digitale pathologie
Wij zijn als Cloud Service Partner al vele jaren actief in de digitale pathologie. Twee recente cases zijn:
PALGA/Sectra: PIE, een uniek landelijk Pathology Image Exchange netwerk
BK 2020: Succesvolle samenwerking tussen zorgpartijen en ICT-leveranciers (genomineerd voor de Computable Awards 2019 'Beste ICT-project in de zorg')
30 juni: Interoperabiliteit – de toekomst is een universele viewer die koppelt met AI
Jacko Duker, stafadviseur digitale pathologie van het UMVG (Groningen), vertelde over regionale samenwerking in Noord-Nederland. Voor de regio is Gerrit ontwikkeld, een gelijkwaardige IT-infrastructuur die ziekenhuizen met elkaar verbindt. De pathologische beelden komen samen in een centrale opslag.
De volgende stap was elkaar toegang geven tot de systemen. Maar de security officers vonden Gerrit onvoldoende bestendig. Zij wilden een 'next level' om autorisatie en authenticatie op het juiste security level met elkaar te regelen. De keuze viel op MS Azure AD. Dan heb je geen woud aan accounts en wachtwoorden, werken vanuit huis is mogelijk en je kunt beelden delen buiten de regio voor consult of research.
Dit was een flinke stap vooruit, maar pathologie is meer dan kijken naar een beeld. Je wilt ook verslaglegging doen en als expertteams samenwerken. Dus volgde opnieuw een 'next level' security: universele toegang. Er zijn namelijk te veel afhankelijkheden tussen systemen van de ziekenhuizen en universele toegang vergroot de interoperabiliteit. Met de digitale werklijst voor pathologen en een universele viewer is weer een stap gezet.
Het uiteindelijke doel is een onafhankelijk platform, ook om in de toekomst AI-leveranciers te kunnen koppelen en AI-validatie in de regio af te kunnen stemmen.
Met ruim 300 zorgorganisaties als klant en onze status als Trusted IT-partner, kunnen wij als geen ander de ICT-brug slaan tussen bijvoorbeeld  de verschillende pathologie-organisaties. Uiteraard kunnen we dit ook breder in de zorg ondersteunen. Denk bijvoorbeeld aan hoe we ziekenhuizen, ouderenzorg en de huisartsenzorg op elkaar aansluiten om onderling informatie delen. Zorgorganisaties vormen in feite een netwerkketen. Vanuit onze rol als service broker faciliteren wij binnen deze keten zowel de samenwerking als de techniek.
Meer weten over pathologie, AI en interoperabiliteit?
Heeft u het verslag van de MedicalPHIT seminars over digitale pathologie gelezen en wilt u meer weten? Neemt u dan contact met Bastiaan Houtsma (care) of Johan Mulder (cure).