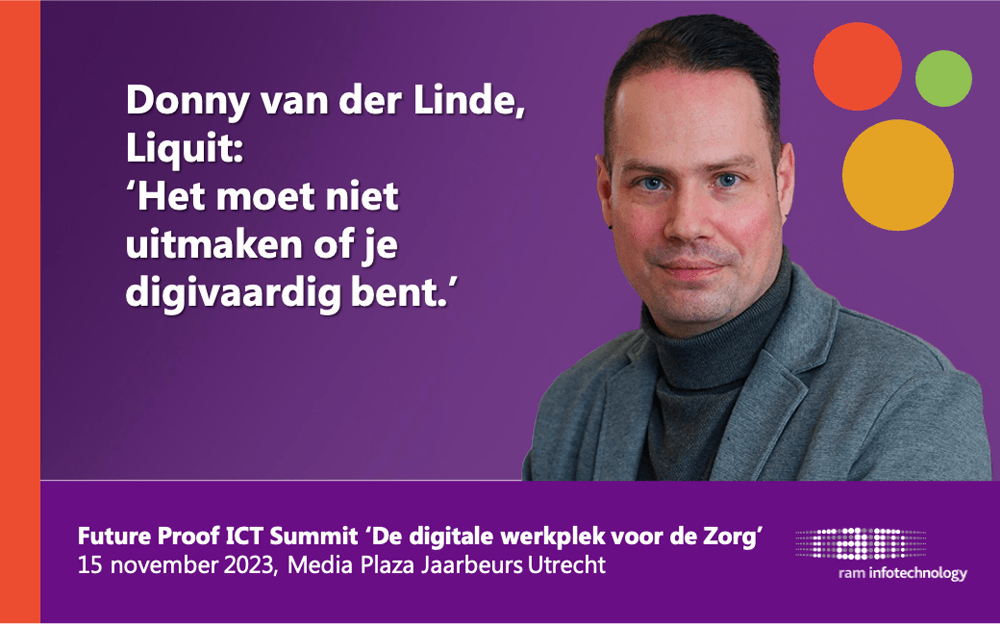 Het moet niet uitmaken of je digivaardig bent.
ICT die ongemerkt, onzichtbaar aanwezig is en je laat doen wat je wilt doen. Liquit beheert een set-up store van enkele duizenden geverifieerde applicaties. Veel? Toch kun je ook als 'digibeet' gewoon 'je ding doen', snel, makkelijk en veilig. Donny van der Linde, Pre-Sales Consultant bij Liquit, vertelt op ons Future Proof ICT Summit hoe.
"Of je je werk nu op een desktop, laptop of smartphone doet, thuis, onderweg of op locatie, in de cloud of in Citrix, dat maakt voor ons niet uit. Wij zorgen dat je met slimme, herkenbare iconen op je scherm makkelijk je keuzes maakt en direct komt waar je wilt zijn. Je hoeft er niet over na te denken, en dat moet ook, want je hebt als zorgverlener andere zaken aan je hoofd. IT moet jou helpen en niet afleiden. Je werkt in je eigen – sociale – portaal of met je eigen startmenu. Dat kan ook in een EPD/ECD-omgeving zijn, eventueel binnen Hix, waarbij je via SSO, Single Sign On, direct toegang hebt tot de voor jou op dat moment, op die plaats benodigde applicatie. ICT als water uit de kraan." 
Donny van der Linden: 'Altijd je applicaties kunnen gebruiken zonder hoeven na te denken.'
"De veranderingen in IT die achter de schermen plaatsvinden, ook in de IT-infrastructuur, nemen wij voor onze rekening, bijvoorbeeld in samenwerking met een partner als RAM-IT. Wij garanderen de continuïteit van de processen en zorgen dat we compatible blijven. We beheren een set-up store van enkele duizenden geverifieerde applicaties en zorgen dat je altijd over de laatste versie van een applicatie beschikt, bijvoorbeeld na een veiligheidspatch. Dus altijd de versie die past bij je werk en je werkplek. Dus ook als je als ambulante medewerker remote toegang moet hebben tot een applicatie en er geen veilige verbinding is, bijvoorbeeld in de trein, maken we dat mogelijk met VPN. Of je nu digivaardig bent of niet, het moet duidelijk, makkelijk en in korte tijd werken. Laagdrempelig, als water uit de kraan. Dat is onze rol en hiermee dragen wij bij aan de moderne zorgwerkplek."
Voor meer informatie en aanmelden, kijk op Summit De Digitale Werkplek voor de Zorg op 15 november 2023, Media Plaza, Jaarbeurs Utrecht.
Meer informatie en aanmelden