Nevil van Reijen, Manager Service Improvement, vertelt over wat er bij komt kijken om thuiswerken en ambulant werken te ondersteunen.
​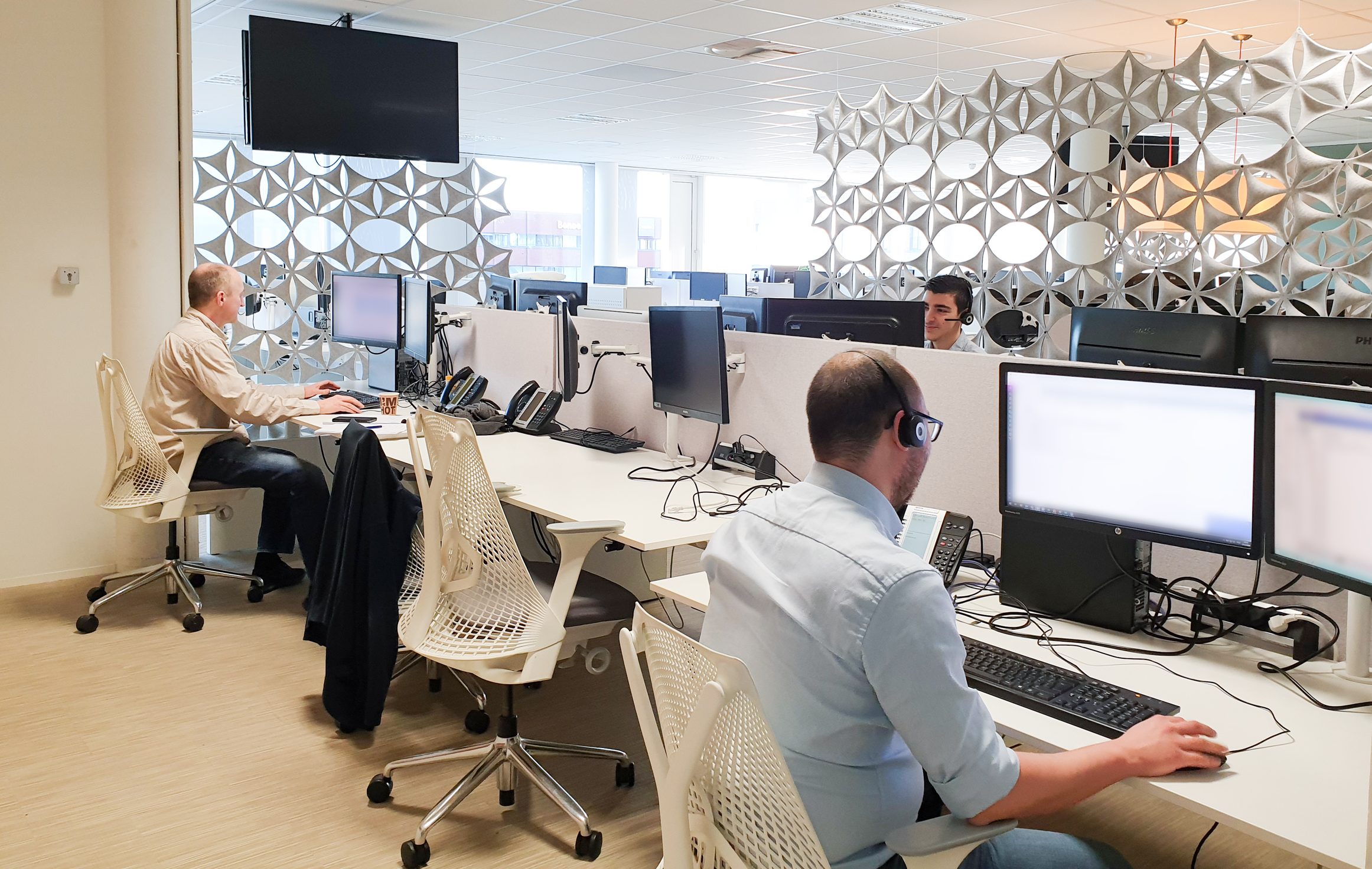 De RAM-IT Servicedesk op full speed voor allerhande corona-verzoeken en andere vragen.
"De vraag achter de vraag is voor onze Servicedesk cruciaal".
Wat mij het meeste opvalt is de hoeveelheid creativiteit die deze uitzonderlijke situatie los maakt. Ook aan de klantkant zien we nu allerlei initiatieven ontstaan. Als we goed weten wat er precies nodig is, komen we met elkaar het snelste tot de beste oplossing.
Creatief met video
Zo hebben wij bij een zorgklant al video-bellend een printer geïnstalleerd. Deze printer moest komen te staan op een zogenaamd "vuile afdeling", een afdeling waar corona-patiënten verzorgd worden. Een eigen medewerker van deze zorgorganisatie is, geheel ingepakt en beschermd, de afdeling op gegaan om de printer goed aan te sluiten en de printer te patchen. Wij keken via live video met hem mee en konden zo de juiste aanwijzingen geven. Na een test bleek alles te werken en kon de medewerker de afdeling weer verlaten. Missie geslaagd.
Ik vind dit een mooi voorbeeld van een samenwerking die past in deze tijd.
Tientallen verzoeken
We krijgen de laatste weken natuurlijk tientallen verzoeken voor thuiswerken, ambulant werken en Teams-implementaties. Bij ambulant werken gaat het om zorgverleners die op locatie normaal met een thin client werken. Nu moeten ze zorg op afstand verlenen en de interne contacten vooral online onderhouden. Daarvoor zijn ze aangewezen op een smartphone, tablet of laptop. Ook de thuiswerkers hebben behoefte aan, meestal, laptops die dezelfde, beveiligde applicaties en data als op kantoor bieden. Dat moet je in één keer goed regelen.
De vraag achter de vraag
Hiervoor beginnen we altijd met een intake om de behoeften vaststellen. 'Wat wil je kunnen doen?', 'Welke functionaliteiten heb je nodig?', 'Wie moet documenten kunnen delen?'.
Het gaat om de vraag achter de vraag, want niet elke klant heeft al een goed idee van wat er werkelijk nodig is. Omdat onze service- en relatiemanagers de klanten zo goed kennen, kunnen we toch snel een beeld vormen van de benodigde hardware, functies (financieel, HR, zorg), licenties (bv. Documenten delen via Teams), gebruikersrechten op persoonsniveau et cetera. Al aanwezige mobiele devices configureren we op afstand. Creatieve eindgebruikers stuiten dan wel eens op bewuste beperkingen. Zelf even een webcam eraan hangen gaat niet. Natuurlijk weet onze servicedesk zoiets keurig uit te leggen.
Hoge leversnelheid dank zij standaard oplossing en gemotiveerde collega's
In ons eigen managementsysteem TOPdesk geven we alle verzoeken rondom corona een corona-tag mee, waardoor we ze met prioriteit kunnen afhandelen. Daarbij profiteren we ervan dat onze oplossing in principe gelijk is aan de oplossing die we standaard altijd al leveren. Alleen nu in twee, soms zelfs één dag. Het laat ook zien dat de engineers en andere medewerkers bij ons heel gemotiveerd zijn. Zo gaan zij
's avonds of zelfs in de nacht door. Daardoor slagen we erin de wachttijden vrijwel gelijk te houden aan normaal.
Ik vind dat een prestatie. Ook onze klanten spreken hier hun waardering over uit. Iets waar we trots op mogen zijn!